17 april 2017
This award is given to contractors for their best performance according to the international ELC standard (Environment, Labor, Community).
When awarding the prize flag, the following criteria were taken into account: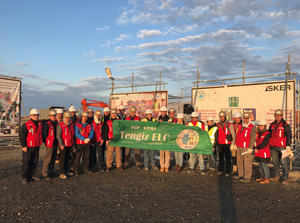 1. Purpose of award
Recognition of contractors which display leadership in the environmental, labor and community aspects, maintain high operating standards and continually improve which meets or exceeds the Company's expectations.
2. The prize flag is awarded based on the seven ELC weighted indicators:
• scope of work and associated ELC risks;
• incident free operation;
• fulfillment of ELC objectives and ratio of gaps identified by Contractor / Company (over 75%);
• creation of organizational capabilities (awareness and training programs);
• timely reporting of incidents and correction measures;
• continuous improvement / contractors with the greatest progress in improvement;
• identification and implementation of ELC activities.
3. Scope of Contractor's work, ELC – related risks, number of Contractor's personnel and available experience are taken into account in the evaluation process.
4. The prize flag is awarded at the Company's discretion based on weighted estimate of various criteria and comparison of numerous performance indicators of contractors.
CRS and GIS "Terra" is one of the first Companies operating under ELC standard in Kazakhstan.