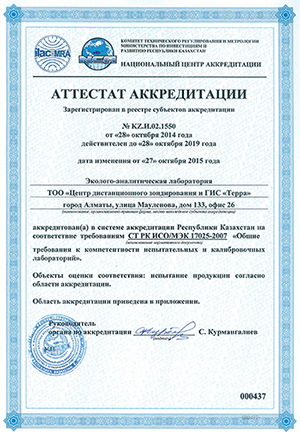 The Center for Remote Sensing and GIS "Terra" owns an accredited ecological and analytical laboratory.
The Company's ecological and analytical laboratory is accredited within the accreditation system of the Republic of Kazakhstan for compliance with requirements of ST RK ISO/IEC 17025-2007 «General Requirements for competence of testing and calibration laboratories» has the Accreditation Certificate of Technical Regulation and Metrology Committee at the Ministry of Investments and Development of the Republic of Kazakhstan No. KZ.I.02.1550 of October 28, 2014.
The laboratory's principal activity is performance of works to provide ecological studies.
The laboratory performs an analytical control of environmental components including: atmospheric air, surface and ground water, soils and bottom sediments.
The laboratory has a mobile group to conduct ecological monitoring of natural environment, sampling and field studies. The laboratory personnel have standard certificates for sampling methods issued by Technical Regulation and Metrology Committee.
The material and technical base of the laboratory consists of latest measurement instruments and auxiliary equipment. Auxiliary equipment includes sampling facilities (bathometer, dredges, Gardena borehole pump, Edelman soil sampler (drill), etc. as well as equipment for samples storage and delivery to stationary laboratories.
Analytical equipment primarily consists of portable ecological and analytical devices intended for direct express analysis of environmental objects (Niton Xl3t 950 GOLD plus spectrophotometer, DR-2800 spectrophotometer, U-50 liquids analyzer, GANK-4 gas analyzer, MES-200A meteorological meter etc.). All measurement instruments are entered into the state register of the Republic of Kazakhstan and have calibration certificates.