Customer: Burabai SNP at the Presidential Administration of the Republic of Kazakhstan
Assignment Purpose: Change functional zoning of SNP area in view of optimizing environmental, scientific, limited economic, environmental, educational and tourist-recreational activities of the National Park, as well as streamlining the infrastructure planning to ensure conservation of ecosystems. Designing of reforestation works and monitoring of results of planting forests on burnings.
Brief Description: Since 2007 to the present, a number of projects have been developed to improve the system for the National Park management (infrastructure development plan, management plan, electronic control system). Due to changes in the National Park's area, the scientific substantiation and feasibility study for extension of the area have been developed, as well as transfer of SPNT lands to the reserve lands. Projects for afforestation of forest areas and forest fire prevention have been prepared.

Результат: The systems for management, load distribution, functional zoning, plan for infrastructure development developed by our company and operating in the area of Burabai National Park help to maintain the most valuable parts of the unique national park.
Uniform distribution of the increasing recreational loads on various ecosystems of the National Park, depending on their stability, enables the SNP visitors to get in touch with the nature and preserve its original beauty for future generations.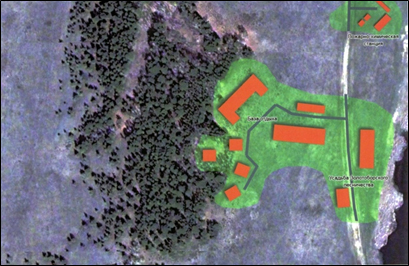 Plan for location of the farmstead of Zolotoborsk forestry