Customer: Witteveen+BosCaspian LLP
Assignment Objective: : Analysis of legislative and regulatory acts of the Republic of Kazakhstan in relation to the project. Environmental studies to describe the current state of environmental components in the construction area. Assessment of environmental impact from construction and operation of this facility. Development of measures for environmental protection, monitoring and control.
Brief Description: The North Caspian Marine Channel with Berthing Facilities under construction will be used to transport cargo in support of construction operations and oil fields, industrial enterprises in Kulsary / Tengiz / Beineu region. This channel is an optimal navigation route for transshipment of large and general cargo to the northeast coast of the Caspian Sea. Since 2012 to present, our company has completed a range of works on environmental impact assessment, including baseline environmental studies of the project area onshore and offshore in the area of Prorva field.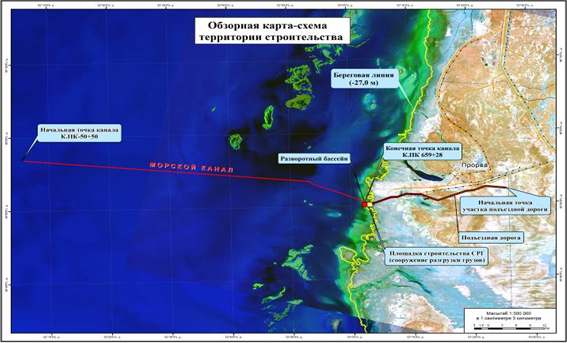 Result: Several alternatives for location of the North Caspian Marine Channel were analyzed in the course of project works. The detailed analysis of the current state of natural environment components and consequences of impacts from the intended operations made it possible to select the option which would cause the least damage to the environment. In the design process, a particular focus was made on creating conditions for free movement of marine fauna and reclamation of soil dumps. Since 2014, construction of the marine channel with berthing facilities and access road has begun. For construction of infrastructure facilities, new jobs were created with engagement of specialists from all regions of Kazakhstan.